Fundraising Guide Available Now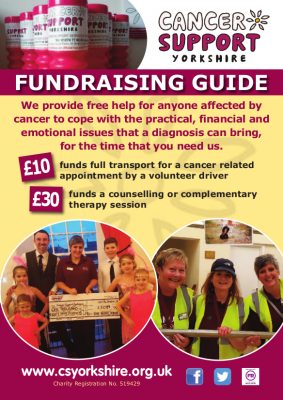 If you are planning on holding a fundraising event for Cancer Support Yorkshire, please pick up or download our Fundraising Guide.
Its full of ideas, hints and tips to make your event a huge success.
You will not be on your own, our fundraising team are here to help and support you each step of the way.
Cancer Support Yorkshire is an independent charity. We rely on amazing people like you whose help, commitment and enthusiasm is inspirational to us.
We are so grateful for any support, big or small.
Help us to support your local community.
£10 helps us transport one of our clients to a hospital appointment and £30  will fund a counselling or complimentary therapy session.
Thank you so much.